Are you looking for free web hosting sites and domain name services to start your website or a blog? We all want free services or products. It does not matter whether if it is Coca-Cola, beer, or just a keychain. Undoubtedly "taking free services or products" are not bad, but not always improve your work.
Let me show you the real face of free web-hosting and domain names:
If you are a learner and want to test your college or school projects these free options will make you a pro from an amateur (beginner).
But if you are looking into developing real-world applications for your business or your client's business these free options are not for you. But you can always go for cheap options.
Top 10 best free website hosting services compared:
The best thing is that you can try now all these services for free. Most of them don't even require credit cards to get started.
Detailed info for free web hosting and domain name providers
If you are willing to start a website or blog, check out this list and open your free account register immediately with anyone from the below-mentioned websites. All the above listed free website hosts support PHP programming language to host PHP-based blogs or static pages on them very quickly. They also provide unlimited bandwidth, unlimited space. Still, they keep some limits on database storage because if someone wants to host a large quantity of data on their website, it will take more time to render page load, which Google does not recommend. This may affect the SEO ranking of your site.
These webmasters do not charge anything from their advertisers to host ads on your website. They are free of ads. But some professional website business people who own a lot of websites to manage them cost-efficiently and for SEO rankings purposes prefer to buy hosting from top web hosts in the USA that provides 99% uptime, dedicated servers, etc.
If you are looking for the best digital marketing agency in India at an affordable price consider ExceedCode once.
1. INFINITYFREE (Best free web hosting and domain)
It is the best free web hosting service, that is providing superb features like free sub-domains. Below is the list of features they are offering by the time this blog is written.
An auto-installer with more than 400 different applications, including WordPress
Free sub-domains
Storage = Unlimited
Bandwidth = Unlimited
400 MySQL DBs
Knowledgebase supports internal links to work out relationships within the online site and increase the time spent.
Moreover, it also provides you Softaculous Script Installer to install 300+ CMS like WordPress. They are not giving any free domain. You have to buy from other domain providers like GoDaddy.
Next hosting is Hostinger powered 000WebHost.com. Below listed are some major features:
Website = 1
Subdomain 0
300 MB Storage
3 GB of high-speed bandwidth
MySQL database = 1
Support = Community forum
It has its own website builder named Zyro Website Builder. The free plan is limited, but for prototypes and learning, it is good hosting. It comes with premium resources. You could pick up any paid plans from hostinger if you ran out of resources.
Checkout : 000webhost subdomain list
*.site88.net *.web44.net *.net78.net *.net46.net *.net63.net *.net76.net *.net84.net *.site40.net *.site90.com *.site50.net *.site90.net *.net23.net *.comze.com *.comoj.com *.comli.com *.comyr.com *.comuf.com *.comuv.com *.netau.net *.netii.net *.netne.net *.host22.com *.comxa.com *.host56.com *.hostei.com *.hostoi.com *.hostzi.com *.net16.net *.webatu.com *.comlu.com *.netai.net *.site11.com *.webege.com *.webuda.com *.vacau.com *.freeiz.com *.herobo.com *.uphero.com *.comeze.com *.comule.com
These are just previously used subdomains, you can check the actual subdomain list on the website itself.
Wix is a wonderful platform to start with a clean design. it is a web builder, it is the easiest to use, like a drag and drop website builder when it comes to ease of use, setup time, and available features.
FREE signup with email or Facebook
Drag-and-drop designing is super easy
1-year domain free with most plans
Up to $300-worth of ad credits
Access to 1,000s of templates and additional tools in the App Market
The free plan comes with a Wix.com subdomain, you can access website templates with a 500 MB of storage and 500 MB of bandwidth.
It includes everything you need to start your website today. It comes with powerful website building features to help you publish anything, anywhere.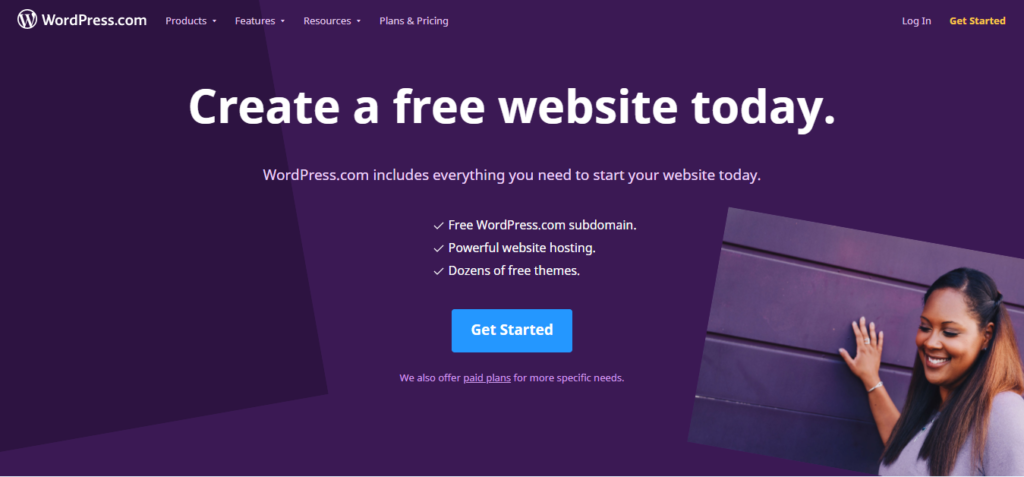 Free WordPress.com subdomain.
Pre‑Installed SSL Certificate
Powerful website hosting.
Dozens of free themes.
3 GB storage
As a free service, your website will hold some ads. They need to make their servers live so will be getting money from this.
The free plan is well known for hosting in the market. As it includes the following features:
Website = 1
Subdomains = 3
1 GB Storage
5 GB high-speed bandwidth
MySQL database
24/7 live chat
The best thing about this hosting is that it comes with high quality bandwidth even for free users. It also serves you lifetime service of free hosting.
The best thing about this hosting is, it particularly comes with optimized hosting plans. This means that even for free users, the website scrips will get optimized but not required to be a paid plan.
5 Hosted Domain(s)
250MB Disk Space
6GB Monthly Traffic
3 E-mail Accounts
1 MySQL v.5 Databases
10MB MySQL Storage
You are definitely getting a website builder complete with templates. Moreover, their support ticket response time is 1 hour to resolve your issues.
Like every other hosting, it also comes with two kinds of pricing free and paid. It undoubtedly has some unique features: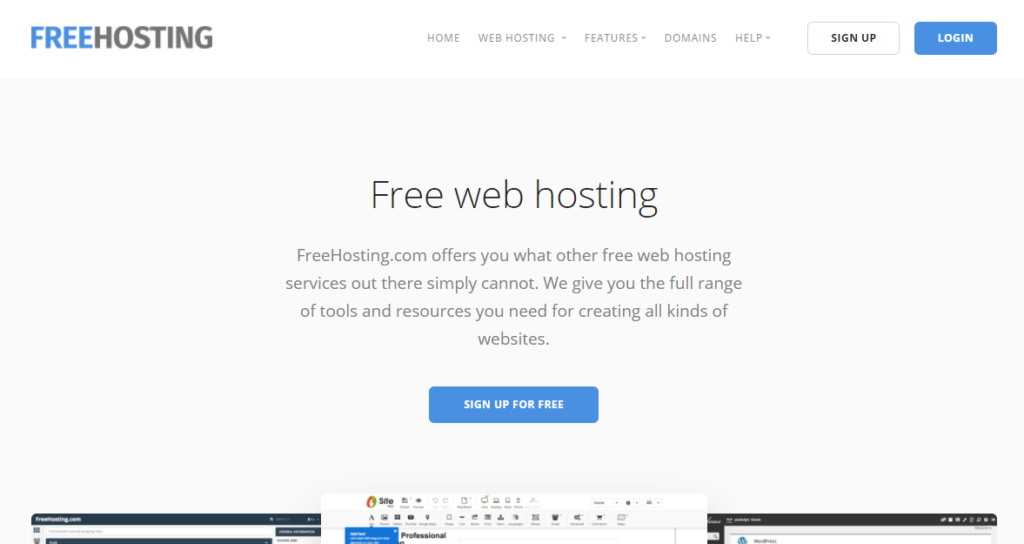 One website
No subdomains
10 GB disk space
Unmetered bandwidth
One MySQL database
Ticket support system
Above all their service is about to give you everything you need. You can host your own domain name, your site can heavy scripts, you can put ads on different sections on your site, you can have "N" number of web pages as you need.
iFastNet company holds Byethost to provide you number of web-hosting services. Similarly, features of free plan are listed below: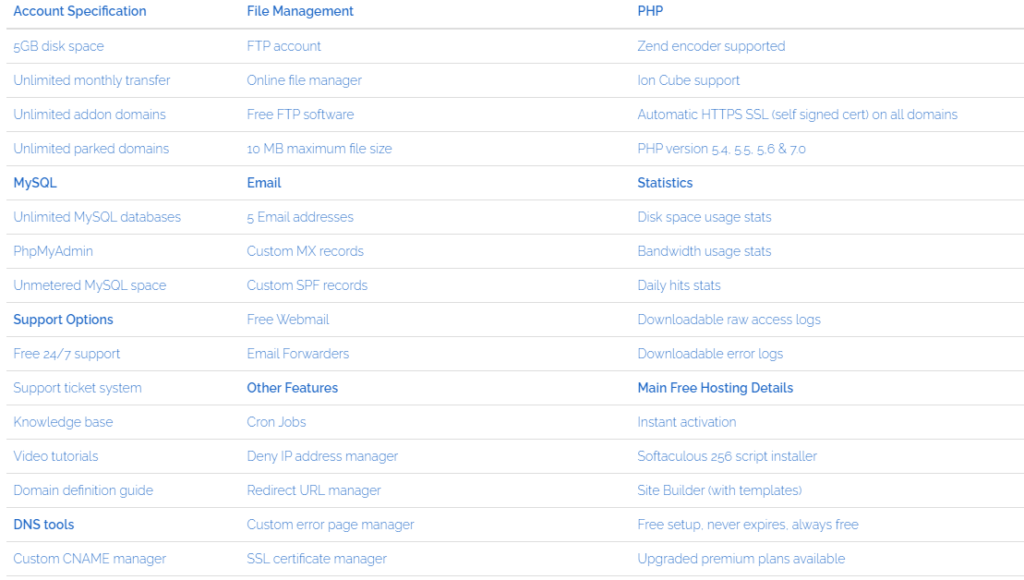 Subdomain included
5 GB disk space
Unlimited bandwidth
One MySQL database
24/7 support via the ticket system and knowledge base
ByetHost provides support via ticket system, but their support is very strong. You can watch video tutorials and use knowledge-base to clear general doubts.
Again iFastNet owned company HyperPHP is similarly a free web-hosting company and provide free subdomain names. This plan comes with the following features:
1 GB disk space
Free subdomain included
MySQL database
Free community forums and tech support
This hosting comes with vista control panel. You can install scripts easily with automatic script installer.
This comes with a free subdomain registration and free website hosting also. It includes the following features for free plan: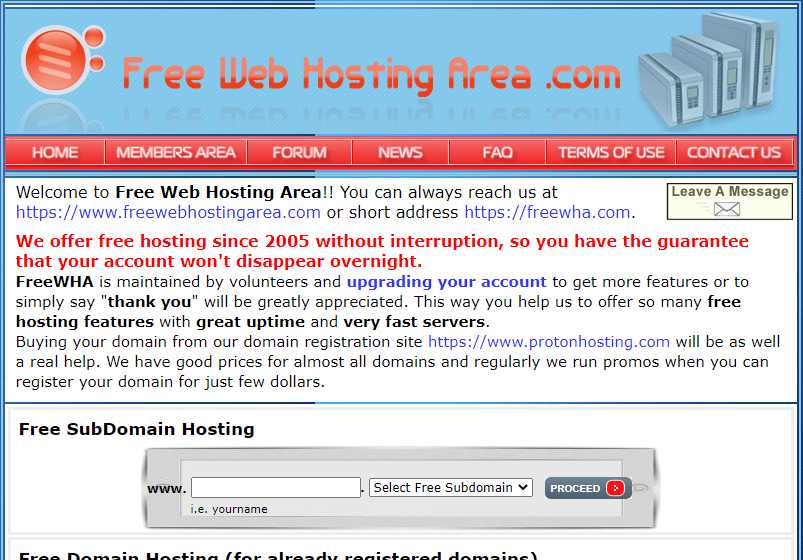 1.5 GB disk space
Unmetered traffic
MySQL databases
Email support
They require unique visitors every month to keep your site live. Also do not ever host private projects, APIs etc, as they strictly ban your account due to restrictions.
free web hosting and domain names.
Conclusion: We just shared some of the many free website hosting services and domain name providers. There can be others better than the ones listed above. It totally depends on you for what kind of website you need hosting. As for blogging wordpress.com is enough, but if you have a custom domain name then you can go with infinityfree or awardspace also. Let me know in the comments what hosting you prefer for free and premium.